The joint "Sunday School" is a partnership of Agudath Achim Congregation, Temple Beth Israel, and the Federation. The mission of the school is "To inspire, nurture, and support the educational growth of our Jewish children. The school seeks to establish a strong Jewish identity, a commitment to our heritage and connectiveness to the Jewish community." It is administered by a committee composed of representatives of each congregation.
Our Sunday School meets each Sunday during the academic calendar year with each Agudath Achim Congregation and Temple Beth Israel each hosting classes for a semester. The school also hosts a summer camp fair information session, our Purim Carnival, a Passover Seder, a Hanukkah party and other programs and activities related to the Jewish holiday calendar. Parents, the congregations and the Federation share the overall cost of operation. The Federation assumed the clerical and accounting functions of the Sunday School from 2005 until 2014.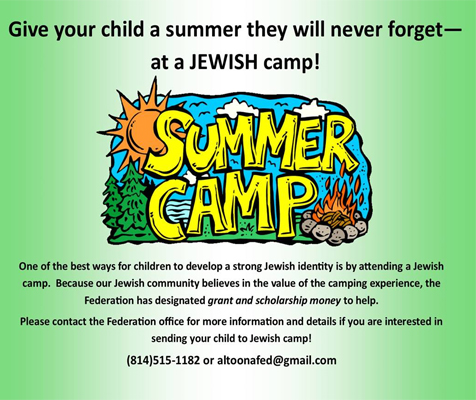 Sunday School class featured in the Altoona Mirror with 2019 Passover celebration.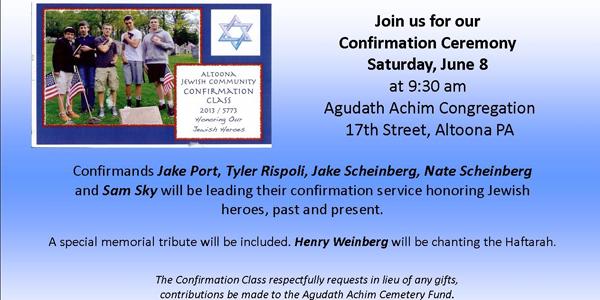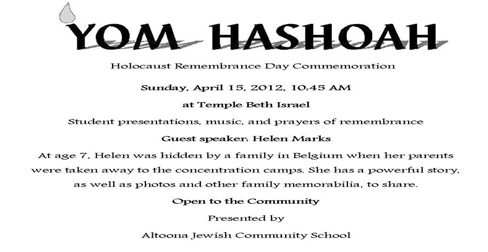 The Confirmation Class of our Community Sunday School recently attended a Panim el Panim seminar in Washington DC.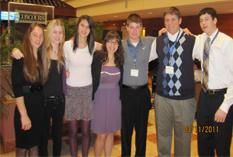 Congratulations to Ginger Glass, Fallon Morris, Carly Port, Sarah Lipitz, Ethan Knepp, Noah Scheinberg and Ian Bilofsky.
In Panim el Panim seminars and programs, teens learn from and become friends with a broad network of Jewish teens from around the country. Together they receive advocacy training, participate in service learning and have the opportunity to lobby their elected officials on Capitol Hill, putting what they have learned into action. All Panim el Panim seminars include interactive sessions in which students relate Jewish texts and values to the world around them.
For twenty years, PANIM: The Institute for Jewish Leadership and Values has been empowering Jewish teens to a lifetime of activism, leadership and service. Now, as a division of BBYO, PANIM offers its high-quality content and experiences to significantly more Jewish institutions and teens. By providing relevant educational resources and curriculum, in depth immersive teen experiences and professional training for Jewish educators across North America the PANIM Institute of BBYO is creating a movement of young activists ready to take on the challenges facing society and the Jewish community.
Read about their experiences at Panim el Panim here.
Read IlissaZimmermans keynote address to our Confirmands.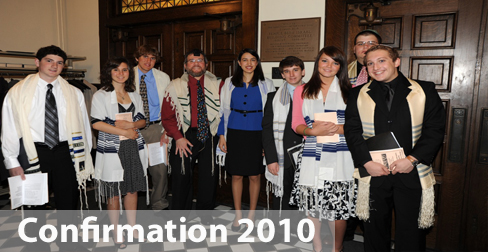 Congratulations to Scott Cohen, Ariel Port, Ben Scheinberg, Joel Schocker, Caroline Pielmier, Jimmy Holiday and Howie Keenan on their Confirmation. They are pictured here with Hazzan Michael Horowitz and Rabbi Nicole Luna.
Click here to read the keynote address of our Principal, Illisa Zimmerman.
Click here to go to the photo gallery from Confirmation.
News & Notes:
The 8th grade class at the Altoona Jewish Community School recently wrote a letter to the editor of the Altoona Mirror. You can view it here.