10/11/23
Dear Jewish Community Member,
Outrage and disbelief are a few of the many emotions that Jews and responsible human beings are feeling regarding the horrific and murderous attacks on our brothers and sisters in Israel this past weekend. It goes without saying that we are all shocked and concerned about the welfare of our fellow Jews and all citizens of the State of Israel as a result of this senseless and unprovoked attack. From JFNA:
"On October 7, 2023, during the holiday of Shmini Atzeret, Hamas terrorists launched an unprecedented attack on Israel from Gaza, firing thousands of rockets, breaching the country's borders, with significant numbers killed and hospitalized. Israeli Prime Minister Benjamin Netanyahu declared that Israel was at war to defend itself and gave the order for the IDF to commence "Operation Swords of Iron."
Jewish Federations are responding, working with our core partners to support victims of terror, help rebuild damaged infrastructure, and address the unprecedent levels of trauma caused by this horrific attack.
Now, more than ever, they need your support. Israel will prevail and the Jewish people will stand together as we always do. Am Yisrael Chai."
Click here to get an update on JFNA's fundraising results as of 10/27/23.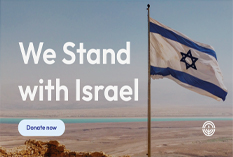 URGENT HELP IS NEEDED DONATE NOW
OUR FEDERATION WILL MATCH YOUR CONTRIBUTION DOLLAR FOR DOLLAR. If you give $100 then Federation will give $100. The Federation has already donated $5,000 and the Federation will match up to $20,000 from our community. THE MONEY WILL BE SENT TO JEWISH FEDERATIONS OF NORTH AMERICA WE STAND WITH ISRAEL RELIEF.
Please give generously on our Federation website homepage by:
1. Clicking on the orange DONATE button on the sidebar on the left side of the home page
2. Enter your dollar amount
3. At the USE THIS DONATION FOR, hit the down arrow and select STAND WITH ISRAEL
4. Select the box to add a small amount of money to offset the transaction cost
5. Select donate with credit card
6. Click on WRITE A NOTE (OPTIONAL)
7. Add your credit card information. Check credit card expiration date for accuracy
8. Add name and billing address
9. Click on DONATE NOW
Or send us a check ASAP, payable to Greater Altoona Jewish Federation, PO Box 224, Hollidaysburg, PA 16648.
Our Federation can be proud that so many families have provided donations. As of 12/4/23, the total raised is 51 gifts from 45 families for over $42,007.74. With the Federation match of $20,000, the total thus far is $62,007.74 for humanitarian support. Thank you so much!
From JFNA:
Where the Money Goes
Basic Needs
Food and financial assistance for impacted families, the elderly, and the homebound.
Evacuation, Housing, Respite, and Support for Frontline Communities
Including support for communities under fire and for new olim living in absorption centers through evacuations, temporary housing, respite trips, children's activities, and increased security.
Funds for Victims of Terror
The Jewish Agency for Israel's Funds for Victims of Terror is a key part of our standing emergency response capacity that provides immediate cash grants to families and individuals who have been impacted by acts of terror and violence, for post-trauma care, etc.
Trauma Relief and Psychosocial Care
To support widescale trauma relief and psychosocial support with expanded capabilities through telephone hotlines; providing direct care to first responders, Lone Soldiers, the injured, and families whose relatives were murdered, injured, or abducted; training and support for caregivers and responders including hospital emergency teams and municipal teams.
Emergency Medical Services and Healthcare
Medical supplies and equipment for first responders and hospitals in close proximity to the front line.
Special Populations
Targeted assistance to vulnerable populations and their caregivers, including the elderly, young children, people living with disabilities, and marginalized populations, such as the Ultra-Orthodox and Bedouin communities.
Local Efforts and Volunteers
Israel's home front has mobilized and funding is needed to enhance capacity and provide operational support to evacuees, special populations, frontline communities, and those responding to the crisis.