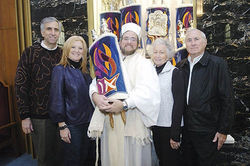 (Mirror photo by Patrick Waksmunski) Agudath Achim Congregation will celebrate its 125th anniversary this weekend. Planners for the festivities include (from left) Joel and Barbara Hollander, co-chairmen of the anniversary celebration; Hazzan Michael Horwitz, spiritual leader of the synagogue; and Nancy and Don Devorris, co-chairmen of the celebration.
The members of Agudath Achim Congregation consider each other extended family. They come together for religious studies, prayers and celebrations such as bar mitzvahs and weddings. This weekend they will come together to recognize the synagogue's 125th anniversary. The observance includes services Friday and Saturday and a dinner at The Casino at Lakemont Park Sunday. Joel Hollander, a co-chairman of the event and chairman of the board at the synagogue, noted the significance of the event. He said other Jewish congregations also have existed for many years.
''Some are doing well, some are struggling, ours is thriving,'' he said.
He attributes the congregation's healthy condition to the bond and caring the members have for one another.
''The warm feeling one gets from this congregation is truly remarkable,'' he said. "It is a feeling that has sustained itself through the years."
When Hollander came to Altoona 32 years ago, he remembers being welcomed by members 20 to 30 years his senior.
He said he and his wife, Barbara, now are one of the couples reaching out to the young adults while maintaining friendships with people 20 to 30 years their senior. Dr. Elliott Bilofsky of Hollidaysburg, president of the synagogue, remembers how welcoming the synagogue was to his now deceased father during his first visit to Altoona.
''They asked him to do the blessing in front of the Torah, our sacred scroll. We say blessings before and after it is opened. It made him feel like a king,'' Bilofsky said.
He said that a Jew qualified to say the blessing can be in a synagogue for years and never be asked to do it.
''It's a wonderful place,'' Bilofsky said. ''I attended two or three synagogues before [coming here]. They were bigger, less personal. Their missions were different. Everybody didn't know everybody. It was not the same feeling."
Bilofsky and Hollander expressed the importance of children being raised in the synagogue.
''It was a wonderful congregation for our three daughters. They were educated there and spent many wonderful years there," Hollander said.
Bilofsky said his daughter Dina had her bat mitzvah and his son Ian his bar mitzvah at Agudath Achim. His daughter Samantha is attending Hebrew school to prepare for her bat mitzvah.
''[The children] are virtually what binds us as a community. With no children, we have no one to hand our faith off to,'' he said.
Nancy Devorris, a co-chairwoman of the event, said a grandson and granddaughter had their bar and bat mitzvahs at the synagogue with two more granddaughters to have bat mitzvahs and a grandson to have a bar mitzvah. She said the family has been very involved with the synagogue where her husband and son-in-law are past presidents and her daughter is a past president of the sisterhood.
"The synagogue is very important to me and my husband. It's part of our lives," she said.
Hollander said 130 families are members of the synagogue with some traveling from State College and Clearfield each weekend to attend services. Membership remains constant with growth coming when families move to the area.
Bilofsky and his family came to the area 13 years ago, after he accepted a position at Bedford Memorial Hospital. At that time, the hospital required its staff to live in Bedford County, but approved the Bilofskys living in Blair County so they could be part of the Jewish community. Bilofsky said people often refer to work, especially doctors, as their second home. But for him, Agudath Achim is like a second home and he can be found there three or four times a week. Hazzan G. Michael Horwitz, spiritual leader at Agudath Achim, said the members set aside time to study Judaism, even during the stressful and busy times in their lives. He said all the milestones during the past 125 years have been achieved through the congregants working together. Returning to the synagogue for the celebration will be Rabbi Herbert Berger, a resident of Elizabeth, N.J, who was the spiritual leader at Agudath Achim from 1977-97.
"Outside of the New York City area, there are few congregations 125 years old," Berger said. "Many of the ones in smaller communities merge and disappear."
Berger, who continues to visit Altoona, said serving at Agudath Achim "was the greatest joy of my life. It is my spiritual home and my closest friends are in Altoona."